We're proud of our "revolution in customer services"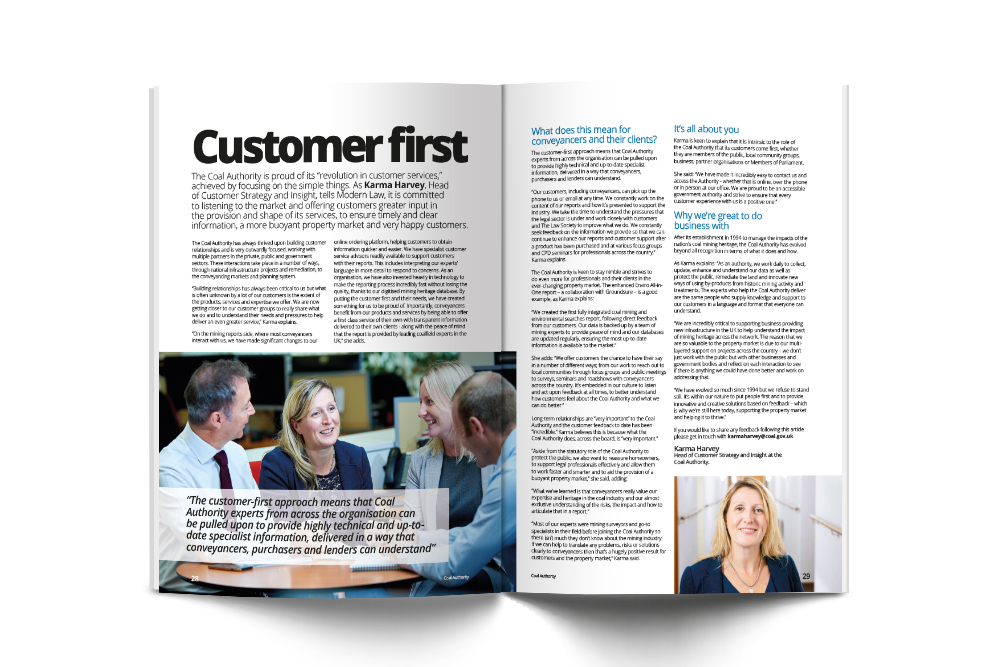 Karma Harvey, our Head of Customer Strategy and Insight, recently spoke to Modern Law magazine to explain how we have gone through a "revolution in customer services, achieved by focusing on the simple things."
As newly awarded members of the institute of Customer Services, Karma explained how as an organisation "we are very outwardly focused, working with multiple partners in the private, public and government sectors.
"Building relationships has always been critical to us but what is often unknown by a lot of our customers is the extent of the products, services and expertise that we offer. We are now getting closer to our customer groups to really share what we do and to understand their needs and pressures to help deliver an even greater service.
"Our customer-first approach benefits from our in house Coal Authority experts. We can pull this knowledge from across the organisation to provide highly technical and up to date specialist information, delivered in a way that conveyancers, purchasers and lenders can understand.
"Most of our experts were mining surveyors and go to specialists in their field before joining the Coal Authority so there isn't much they don't know about the mining industry! If we can help to translate any problems, risks or solutions clearly to conveyancers then that's a hugely positive result for customers and the property market."