Continuing our professional support to industry specialists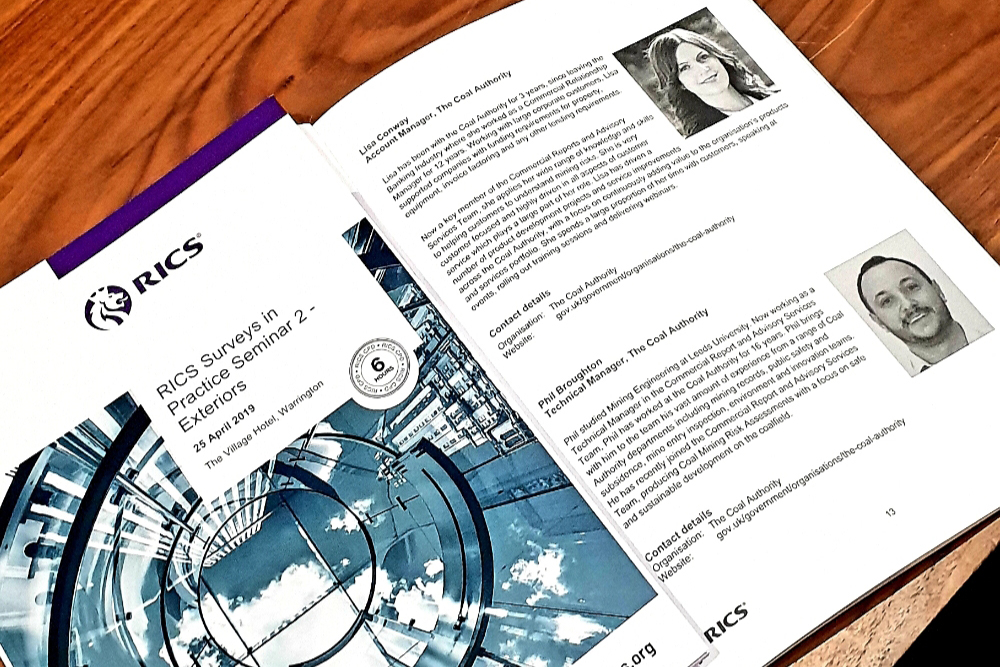 We were incredibly proud to be involved with the recent Royal Institute of Chartered Surveyors (RICS) Survey in Practice Roadshows. This popular series of events returned this year, visiting 10 cities across the UK, with each event providing 12 hours of CPD for those who attended.
Nick Ethlestone, Lisa Conway and Phil Broughton from our commercial reports team presented at the events in Leeds and Warrington, which attracted more than 100 surveyors and several industry expert speakers.
As part of our Coal Authority sessions, Lisa, Phil and Nick used some fascinating case studies, showcasing the expertise and support available for clients on and off the coalfield from the Coal Authority.
Attendees found our session exploring High Risk Development Areas incredibly useful. Phil went on to define these areas and explain in detail how our Coal Authority Coal Mining Risk Assessments can help provide clients with the additional reassurance that they need when looking to further develop land on the coalfield. Our sessions prompted a flurry of great questions including discussion about our various mine water treatment schemes and the range of market leading coal mining reports and advisory services that we provide.
Investing in the continued professional development of our own staff and professionals across our industry has always been important to us. Nick Ethelstone, our Head of Commercial Reports and Advisory Services commented: "We saw a great amount of positive engagement and interest in the Coal Authority from the professionals who attended the RICS events. We're privileged to work in an industry where professionals commit to providing the best professional services to their clients. This cannot be achieved without events like these, where best practice and new innovations can be shared and discussed. We are looking forward to working more with RICS going forward and being a part of more of their upcoming events."
Keeping you up to date with Coal Authority news and information
Sign up here to receive Coal Authority updates about our events, products and services.