There's a lot more to our ochre than you think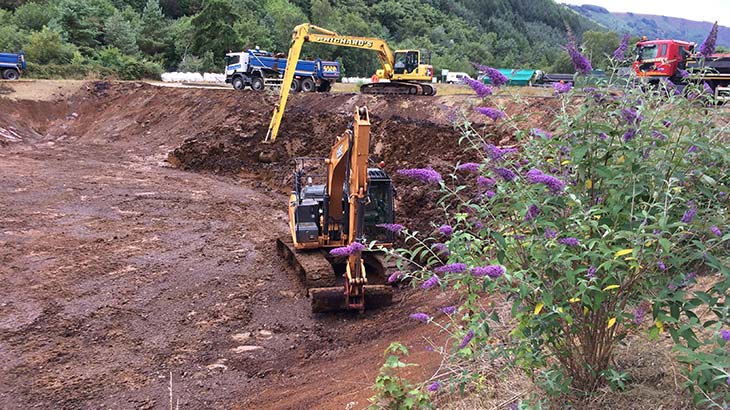 One of our first market applications for Hydrous Ferric Oxide (HFO) in a semi-dried state was in the contaminated land sector, used to treat arsenic at a contaminated land site in North East England.
As part of our work to support the Government 10 Point Green Recovery Plan, we aiming to further reduce our carbon footprint across our network of mine water treatment schemes in Britain. This will, in turn, generate HFO more efficiently, enable greater volumes and better quality.
View the case study on the Mersey Gateway project
Repurposing HFO and how it can be used?
Contamination
This material, HFO, may be used in ground remediation projects to limit the leaching of contaminants – such as arsenic, lead and cadmium.
Ochre from mine water treatment schemes used to treat soil contaminated with arsenic
The video below shows some of the work we did for land remediation at the Mersey Gateway.
The Coal Authority commissioned C E Geochem Ltd to develop a thermodynamic database for trace metal sorption on to the HFO produced at UK mine water treatment facilities (MWTFs). This will support geochemical studies for their use as environmental sorbents. Sorption isotherms and pH envelopes were generated through laboratory studies to provide a dataset for thermodynamic modelling based on real HFO samples. Sorbent phase composition was based on the mineral phase abundance from XRD and specific surface area from BET analysis for several different sources of HFO. The Coal Authority is making the thermodynamic database available in Phreeqc format to be used in predictive geochemical modelling studies.
Our work
Our work helps to sustain the housing market, delivering more than 195,000 mining reports (a vital part of the search that surveyors undertake on properties in an area) whilst providing more than 7,500 planning consultation responses. Being market leaders in providing coal mining information, our coal mining reports provide support and guidance to those living in coalfield areas. They have been carefully designed to provide confidence and trust to customers buying a property or piece of land for development.
Our environmental activity includes treating more than 122 billion litres of water that flows through mines (by removing iron ochre, a by-product of mine water) and saving £2.4 million by recycling the reedbed material that we use in our mine water treatment schemes. Our focus is always on value creation, ensuring not only that we minimise our cost to the taxpayer, but that we develop opportunities such as harnessing heat from mine water to heat homes and businesses so we can help deliver future environmental benefits from our mining past. Extracting heat from abandoned coal mines has the potential to be a game changer for building a sustainable future.
Research and development undertaken by the Coal Authority has shown that Hydrous Ferric Oxide, also known as ochre (a by-product of the mine water treatment process), can now be used as a valuable resource in a variety of different projects, like land remediation and decontamination. The solid iron ochre is generated through mine water treatment processes at Coal Authority schemes that protect essential drinking water aquifers and over 4000km of river. Ochre has unique colour due to the mix of minerals in the ochre produced and the size of crystals and aggolomorates that are precipitated within the mine water treatment site. Ochre has a very high surface area and will adsorb metal ions onto the surface.