Use of ochre in anaerobic digestion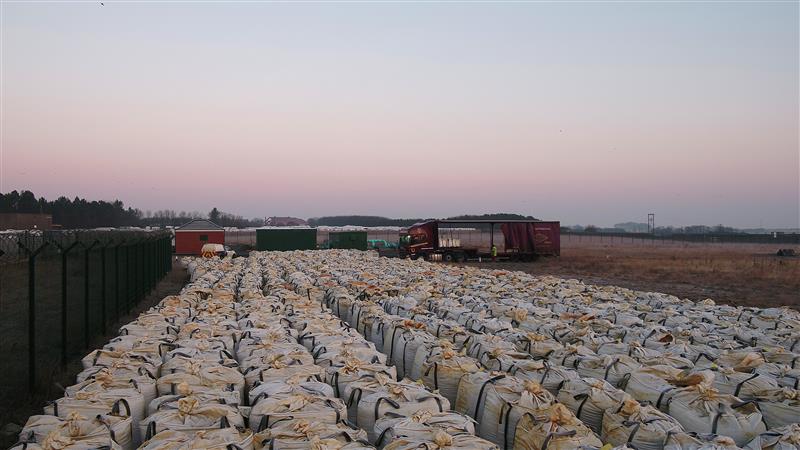 Ochre, is a naturally occurring clay earth pigment, a mixture of iron hydroxide and varying amounts of clay and sand. It ranges in colour from yellow to deep orange or brown. It is often found in mine water as it leaches from the natural surrounding geology. In surface water it often tints the water colour as the ochre oxygenates demonstrating the bright 'rust' colours associated with ochre pigment. In itself ochre is not a toxic substance but there is a clear requirement to remove it to protect drinking water.
As a by-product, ochre is used in variety of applications including jewellery manufacture, medicine, filtration and the iron and steel industry. Ochre has a high sorption capacity for trace elements, reducing the 'leachability' of metals and phosphate by up to 98%.
Ochre has been used for land decontamination and remediation. For two years, the Coal Authority have been working with AB Agri to develop ochre for use in the anaerobic digestion process in agricultural processing plants.
AB Agri will market the ochre under the name ADFe
The Coal Authority have been working for a number of years to find ways to introduce the ochre into the circular economy, rather than send it to landfill, all as part of our sustainability and net zero agenda. 
We manage over 70 mine water treatment schemes across Britain, handling and treating more than 122 billion litres of mine water every year. The schemes prevent more than 4,000 tonnes of iron solids from entering watercourses.
Amur/AB Agri
Amur, an anaerobic digestion (AD) plant business belonging to AB Agri turns food waste into energy and is now working in collaboration with the Coal Authority to utilise ochre. Ochre is currently a by-product of the mine water treatment processes, which clean naturally occurring groundwater flowing out of disused mines. This ochre is now being used to help lower sulphur levels and keep the plants performing as ochre helps to protect engines and other equipment from corrosion, and can extend the life of carbon.
Amur uses the by-product in its own plant, as well as marketing it to other AD plants under the brand name ADFe.  Until now, all of the ochre AB Agri used was brought into the UK from Europe. ADFe will be more sustainable and low carbon – helping to use a by-product from an essential process protecting the environment and also lower transport miles. The product is proven to perform better than the European counterpart and helps the environment too.
Landfill
We want to avoid ochre from being sent to landfill, so we actively seek alternative and safe uses for it.
Improving the Environment
Ochre is a naturally occurring substance which is picked up when water flows through coal mines. If this water goes untreated, it can flow into streams and rivers causing pigmentation and ochre slurry. Our mine water treatment schemes treat billions of litres of mine water each year so that nature living in and around this water finds it easier to live.
Key Messages
The Coal Authority manages over 70 mine water treatment schemes (MWTS) across Britain, handling and treating more than 122 billion litres of mine water every year.
The schemes protect drinking water by preventing more than 4,000 tonnes of iron solids from entering watercourses.
Ochre is a by-product of our mine water treatment schemes. We are now working in collaboration with an anaerobic digestion operator; improving their environmental performance whilst improving our contribution to improving the environment – reducing landfill and carbon footprint, contributing to the circular economy, whilst also generating revenue and reducing public spending
Anaerobic digestion is a process through which bacteria break down organic matter—such as animal manure, wastewater bio solids, and food wastes—in the absence of oxygen. This creates biogas and digestate
Adding ochre to the anaerobic digestion process captures hydrogen sulphide which can reduce odour and saves on the expense of cleaning this from the bio-gas produced
For the anaerobic digestion operators, this reduces the need to import iron hydroxide from abroad and the resultant environmental impacts that incurs